Welcome / Bienvenido to the Fairbank Village!
The Fairbank Village community has more than 200 years of history and continuous development. It is one of the most multicultural areas in Toronto. Our strategic location makes us close to everything. We are in the heart of the 6ix. Our people are strong and resilient, always looking for ways to improve their life and the community around them. We celebrate our diversity offering goods and services for everybody. Today, we want to highlight one of the most represented communities in the Fairbank Village, the Spanish community.
La comunidad del Fairbank Village tiene más de 200 años de historia y desarrollo contínuo. Es una de las áreas de mayor multiculturalidad en Toronto. Nuestra localización estratégica nos hace cerca de todo. Estamos en el corazón de The6ix. Nuestra gente es fuerte y resiliente, siempre buscando maneras de mejorar sus vidas y la de su comunidad. Celebramos nuestra diversidad ofreciendo bienes y servicios para todos. Hoy queremos resaltar una de las más representativas comunidades en el Fairbank Village, la comunidad latina.
At Fairbank Village you will find a great variety of small family owned businesses with a warm welcome. And the best thing is that you will find the services in your own language and environment.
En el Fairbank Village puedes encontrar una gran variedad de pequeños negocios familiares con un caluroso servicio. Y lo mejor es que encontrarás los servicios en tu propio idioma y ambiente.
At Fairbank Village you will find incredible hair salons for the whole family. Just visit one of them, talk with the expert, relax and enjoy a great service. Come and discover our talented stylists. You can have done your new hairstyle, acne treatment, Brazilian, colouring, eyebrow and mustache trimming, hair removal, extensions, highlights, pedicure, perming and relaxing, wash & blow dry and waxing. All these services at a friendly-family budget at Fairbank Village.
En el Fairbank Village encontrarás increíbles salones de belleza para toda la familia. Sólo tienes que venir a uno de ellos, hablar con el experto, relajarte y disfrutar un excelente servicio. Ven y descubre nuestros talentosos estilistas. Te puedes hacer un nuevo peinado, tratamientos para el acné, alizado, color, cejas, corte de bigote, depilación, extensions, iluminaciones, pedicure, permanente, lavado y secado de cabello, la cera. Todos estos servicios a un precio razonable para el presupuesto familiar en el Fairbank Village.
Beauty Salons at Fairbank
Diego's Hair Styles : 1966 Eglinton Ave. West Toronto, ON. Phone: 416-241-3065
Habana Hair Salon : 1914 Eglinton Ave. West Toronto, ON. Phone: 416-784-4483
Golden Scissors Hair Salon: 2354 Dufferin St. Toronto, ON. Phone: (416) 785-1864
Latin Hair Design by Luis: 1889 Eglinton Ave W. Toronto, ON. Phone: 416-785-1977
If it's food you are looking for, you can come to Fairbank Village and enjoy our wonderful Latin American food offering. You will be amazed by incredible Colombian and Peruvian dishes.
Si de comida se trata, puedes venir al Fairbank Village y disfrutar nuestra maravillosa oferta de comida latinoamericana. Te sorprenderán los increibles platos colombianos y peruanos.
Delicious Empanadas: 2438 Dufferin St. Phone: 647-827-2278
Offers a wide variety of Colombian food. Enjoy an amazing bandeja paisa, empanadas, arepas, chorizos, patacones, cholaos and much more. All Colombian traditional cuisine in one place for you to try with the characteristic Colombian environment.
Ofrece una gran variedad de comida colombiana. Disfruta una maravillosa bandeja paisa, empanadas, arepas, chorizos, patacones, cholaos y mucho más. Toda la cocina tradicional colombiana en un solo lugar y con las características del ambiente colombiano.
Koricancha Restaurant: 1885 Eglinton Ave. W. Phone: 647-347-0584
Peruvian cuisine nowadays is one of the most well known in the world. You can delight yourself with marvellous ceviche, jalea or lomo salteado, among others exquisite dishes.
La cocina peruana es hoy en día una de las más reconocidas del mundo. Podrás deleitarte con un maravilloso ceviche, jalea o lomo salteado, entre otros exquisitos platillos.
Chito's Pizza: 1853 Eglinton Ave. W., Phone: 416-783-6666
Now, if you want something lighter but delicious, you can have a great pizza! Even though, its owner is not from a Spanish country, he has strong ties to Colombia and speaks Spanish very well. This restaurant is more than pizza! You can enjoy a great variety of pizzas, shawarma, chicken wings and legs, burritos, and salads in a unique place and with personalized service at Fairbank Village.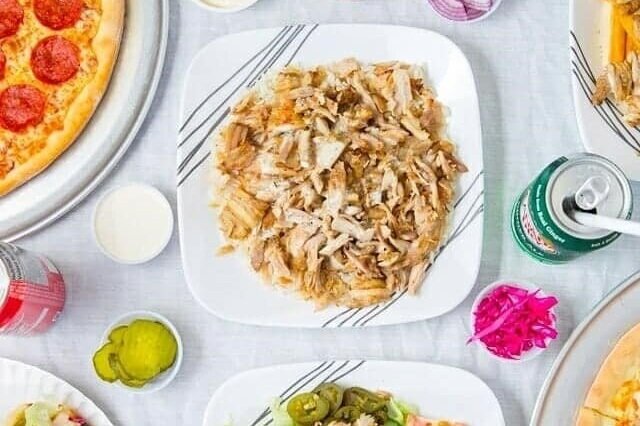 Ahora, si quiere algo más liviano pero delicioso, puedes tener una gran pizza. Aunque su dueño no es oriundo de un país latinoamericano, él tiene grandes lazos con Colombia y habla español muy bien. Éste restaurante es más que pizza! Puedes disfrutar una gran variedad de pizzas, shawarma, alitas y perniles de pollo, burritos y ensaladas en un sitio único con un servicio personalizado en el Fairbank Village.
Mundial Envios: 1950 Eglinton Ave. W. Phone: (647) 748-3931
But, if you are more intrepid and you want to prepare your own dishes, you can come to our Spanish store and buy anything you need for it. You will find harina pan, panela or piloncillo, Spanish cinnamon and a large offering of drinks. All your Spanish products in one place. Also, if you need some additional services such as sending money back home, this store at Fairbank Village has everything you need.
Pero si eres más intrépido y quieres preparar tus propios platos, puedes venir a nuestras tiendas latinas y comprar lo que necesites. Encontrarás harina pan, panela o piloncillo, canela latina y una gran variedad de bebidas. Todos tus productos latinos en un solo lugar. También si necesitas algunos servicios adicionales como enviar dinero a tu país de origen, esta tienda en el Fairbank Village es todo lo que necesitas.
Remember, "when you buy from a small business, you are not helping a C.E.O. buy a 3rd holiday home. You are helping a little girl get dance lessons, a little boy get his team jersey, and moms and dads put food on the table. SHOP LOCAL."
SHOP AT FAIRBANK VILLAGE, SUPPORT LOCAL BUSINESSES!
Recuerda, "cuando compras en un negocio pequeño, no estás ayudando a un gerente a comprar una tercera casa de vacaciones. Estás ayudando a una pequeña niña a ir a clases de baile, a un pequeño niño a tener la camiseta de su equipo favorito, y a madres y padres poner comida en la mesa. COMPRA LOCAL."
COMPRA EN EL FAIRBANK VILLAGE, ¡APOYA EL DESARROLLO LOCAL!